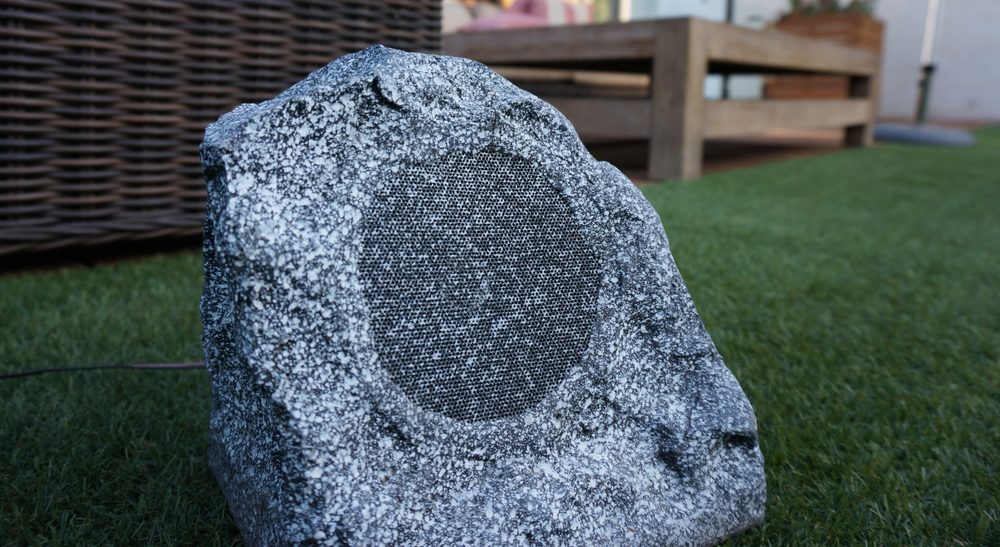 We will be focusing on how to select the best outdoor speakers for your pool area, patio, or backyard. There's thousands of options to choose from, but we have a process to narrow it down and hone in on just a few model numbers.
Step 1: Decide on which outdoor speaker type is most appropriate.
Step 2: Decide on the size of the speaker cones.
Step 3: Decide on a brand and speaker cone material.
Our process makes it easy to buy the best outdoor speakers for your particular application.
Step 1: Deciding which outdoor speaker type is most appropriate.
The best speaker type is the one that makes the most sense in your application. For example, if you have a pool surrounded by garden then a landscape or rock speaker is going to make the most sense. Likewise, if you're looking audio on a raised patio then a surface mount speaker might be more appropriate. Let's review the different types of outdoor speakers.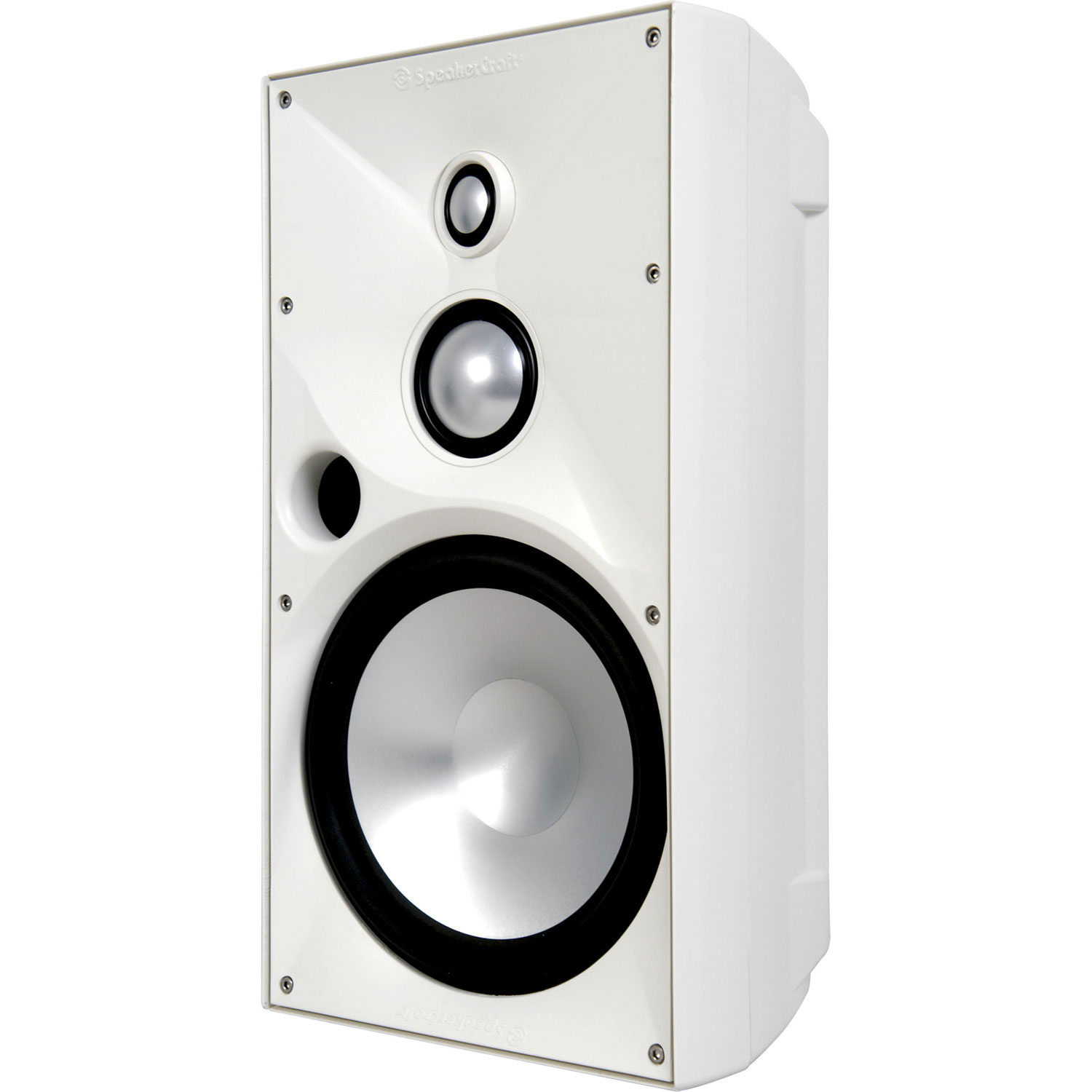 Box Speakers
Surface mounts to the side of a structure.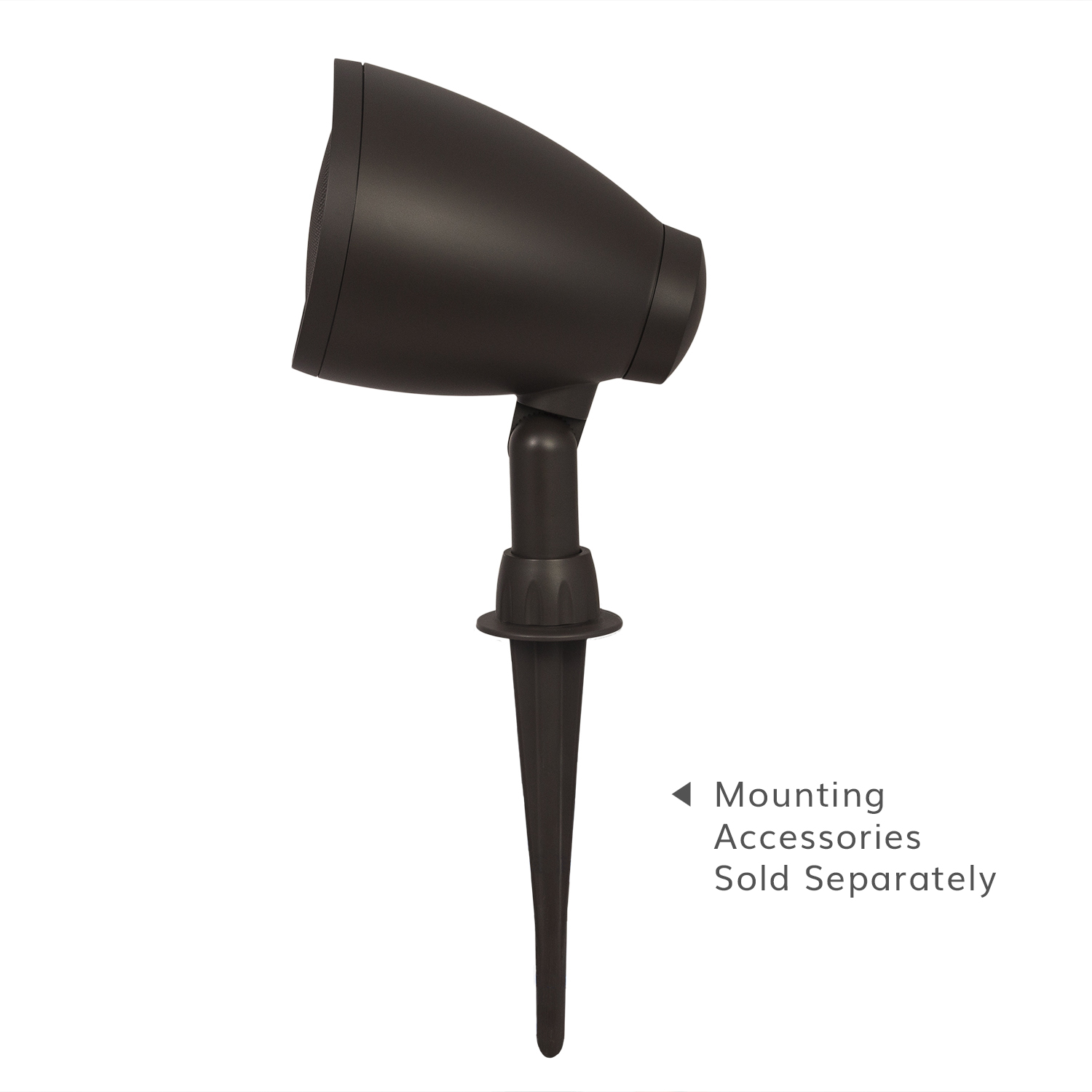 Landscape Speakers
Mounts on stakes or hard surfaces.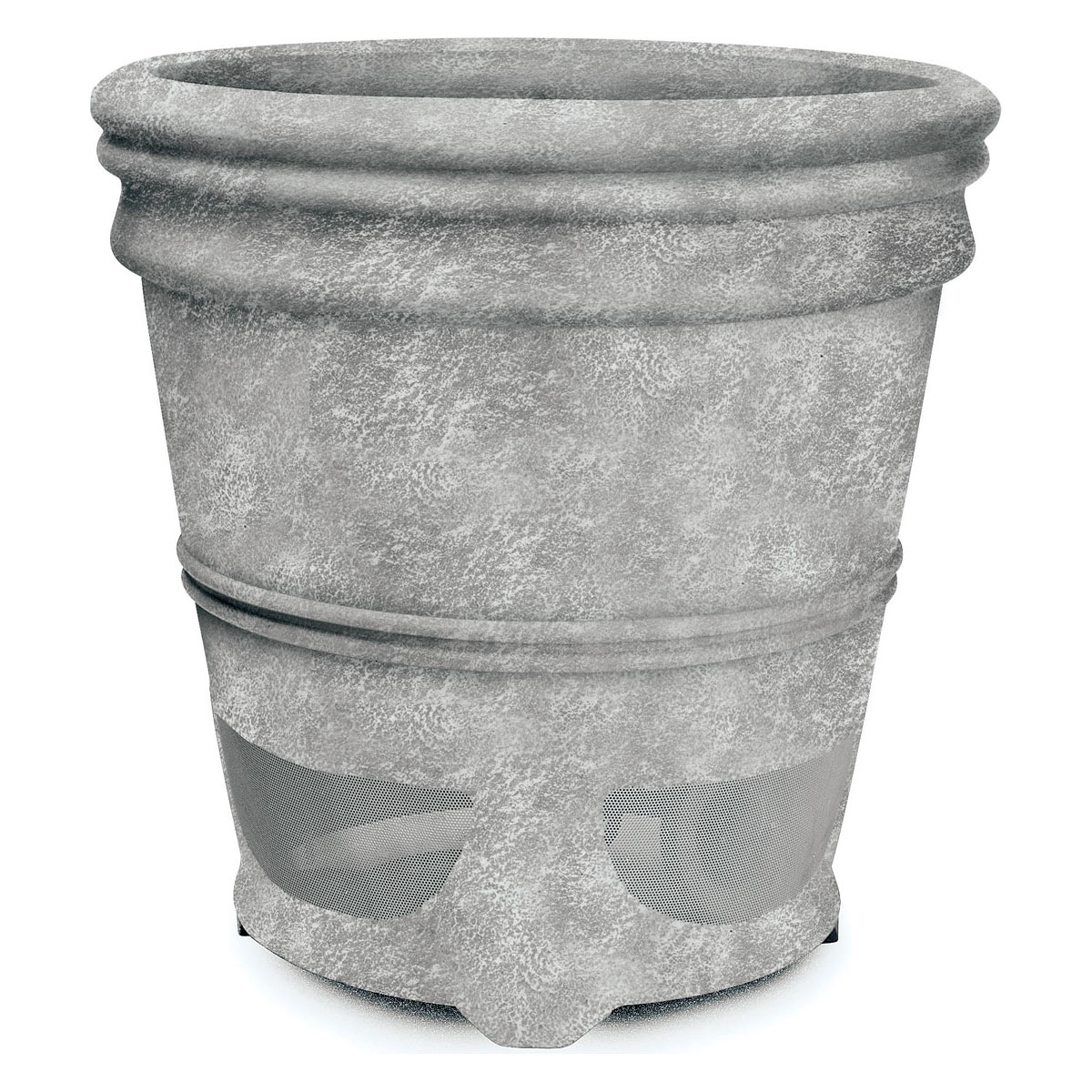 Planter Speakers
Sits on hardscapes, can fill with soil.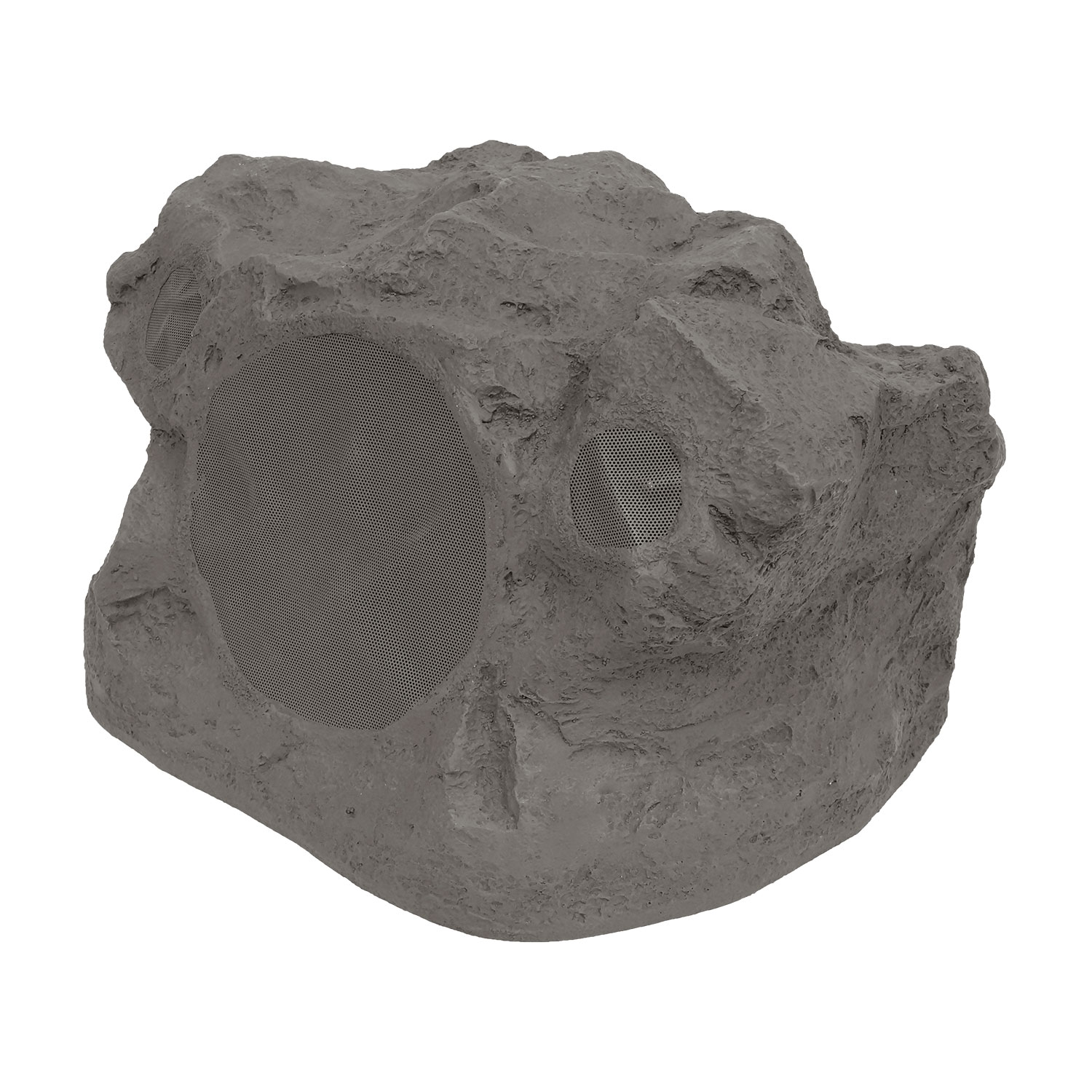 Rock Speakers
Designed to peak through gardens.
Best type of outdoor speaker For Pool Areas
Typically, we're going not going to surface mount box speakers around a pool because the area is usually too large and extends too far beyond any structure mount to. The best choice will depend on the ground surface material that's surrounding the pool.
If the pool deck is entirely a hardscape, like stone or concrete, all the way to the property line then planter speakers are a great fit. They will even add some plant life to the mix. Another solid option is a landscape speaker mounted directly to the hardscape, which looks really great if they are spray painted with something textural matching the stone work.
If there is garden surrounding the hardscape, then planter speakers may look out of place and a landscape or rock speaker is going to be a better fit. These can be tucked into the garden, barely peaking out of the foliage. Deciding between the two will be a matter of taste. A landscape speaker will have a smaller physical dimension and can more easily be hidden, but a rock speaker might blend in a little better provided it's not just out in the open.
In general, there's no harm mixing and matching speaker types around a pool if one speaker type works better in one area while another works better somewhere else.
Best type of Outdoor speakers for attached patios and decks
Patios and decks are usually attached to a house. In this case, a surface mount box speaker becomes a good option. These can be mounted above the level of the door, spread wide flanking the listening area. These speakers are typically available in black or white and come with matching grilles for a sleek look. Typically, the only issue is deciding on a large speaker that will have great mid bass or a smaller speaker that will be more discrete.
This logic holds even more true if the the patio area is raised. In the case of very large raised area, then additional surface mount speakers can be mounted across the deck or patio to framing members, somewhat low to the ground.
If the area is very large and at ground level, then it may make more sense to follow the rules for choosing the best outdoor speaker for a pool area because a lot of the same concepts apply.
Again, there's no harm in mix and match, or in painting the speaker to match the finish of the house or patio itself.
Step 2: Deciding on the size of the outdoor speaker.
The cone size of a speaker is almost always directly proportionate to audio quality. The biggest difference between between a small speaker cone and a large speaker cone will be the mid-bass and sub-bass reproduction. Small outdoor speakers may sound tinny, lacking in depth and richness.
When talking about the size of the speaker, we're talking about the size of the actual cone, not the exterior dimensions of the speaker enclosure. All outdoor speaker types are generally sold with 4, 6, or 8-inch speaker cones. Bigger is always better in terms of audio. Mid and sub bass frequencies require more air to be compressed, and there's just no magic to make that not true.
An outdoor speaker may also include other smaller speakers that are separate from it's main driver, but still within the same device. Since smaller speakers are better at hitting mid-high frequencies, they are included to add range. If a 6″ speaker also includes a 1″ tweeter, it would be called a two-way speaker. If an 8″ speaker also includes one 2″ and one 1″ tweeter, it would be called a three-way.
Making this decision means balancing audio quality with a discrete look. This is mostly an issue when using outdoor surface mount box type speakers because they are almost never hidden. However, when using outdoor landscape or rock type speakers, it may be less of an issue depending on how well the speaker will be concealed.
In short – A bigger speaker will sound better, but will be more difficult to conceal. If you're unsure, a 6″ speaker is usually the balance between the two.
Step 3: Deciding on the outdoor speaker brand and material quality.
There are several criteria when deciding on speaker brands. These may seem like "soft" factors when choosing an outdoor speaker, but it's actually the most critical.
Lifetime Warranty
Warranty Redemption Process
Quality of Material
Lifetime warranty
If it doesn't have a lifetime warranty, don't buy it. Warranty periods are directly related to how long a manufacturer thinks their product might last before a high enough percentrage of them will require warranty redemption. Speakers in general, should always carry a lifetime warranty and outdoor speakers are no exception.
Outdoor speakers with a lifetime warranty are generally built to last, but everything fails at some point and if the climate where they will be installed is exceptionally harsh (very cold, very wet, or very hot) it's unrealistic to settle for a warranty period of 2-5 years when lifetime is an option.
All of the outdoor speakers that we sell have a lifetime warranty, from brands such as Niles, Speakercraft, and Sonance.
Warranty Redemption Process
Before you buy an outdoor speaker, call the tech support phone number on the manfucturer's website and put it to the test. Tell them you have a speaker that has a seized cone and you'd like to have it replaced. If they don't imediately ask for a serial number and shipping address then don't buy their speaker.
We only sell outdoor speakers that can have their warranty redeemed in less than 10 minutes.
Quality of materials
The cones of outdoor speakers, regardless of type, should generally be made of aluminum because it's lightweight and extremely durable. PVC is another acceptable material, although it's somewhat heavier which will slightly degrade sound quality. Most other materials are composites, which may be fine but may also be at risk for failure. If the brand is well respected, it might be safe to trust their composite, but if not then it's better to stick to the well known.
The rubber surrounds of speaker cones are also critically important, but harder to qualify is being good or bad quality. Some rubber composites will become brittle and crack over time, while some will be good for a lifetime. Again, this generally comes down to how well the respected the brand is.
There's lots of other intangibles that also come down to trust in a brand such as crossover construction. It's one of the reasons that overall weight, as silly as it sounds, it's actually a pretty decent indicator of quality.
As far as brands go, we trust Niles, Speakercraft, and Sonance. Between these three brands, and even within each brand, there's ample amount of choice between size, material, and price range.