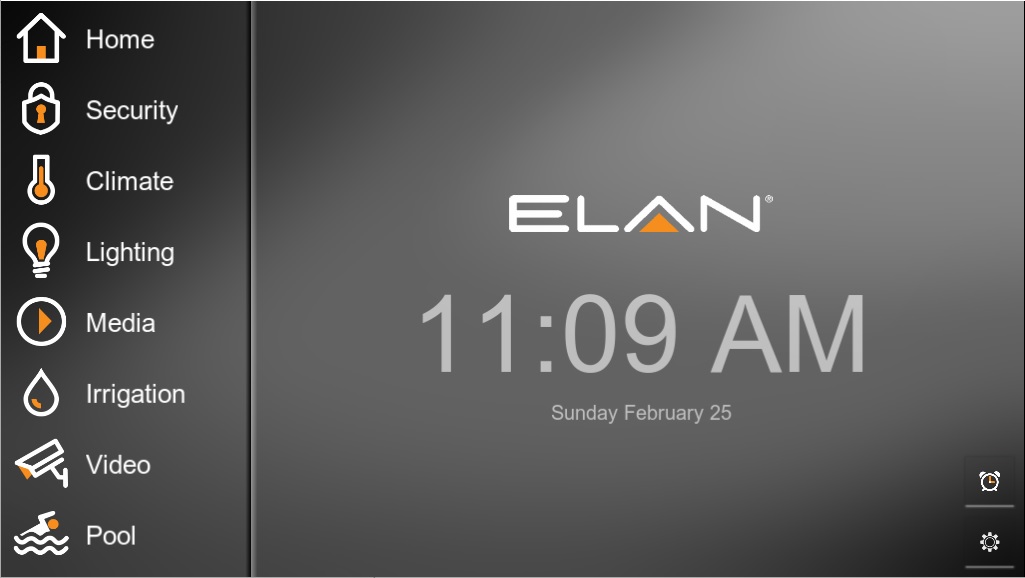 This is a long overdue update to the previous Elan g! home automation system overview published in late 2016. You may have landed on this page because you are considering a home automation system, or even considering a proposal from a home automation system contractor. Either way, we have resources to give you a better demonstration of system capabilities, a high level of knowledge on integrating with third party systems, and a process that will allow you to install a system in a DIY fashion with the guidance of experienced experts. I implore you to contact us to learn more about these benefits.
Prewire plans for Elan g!
The Hardware – Elan g1 System Controller
The screenshots in this walk through are provided by my demo system which is accessible to the public. You can play with this system as if it were your own using these instructions. All of the screenshots used are from the PC Viewer, but will appear the same or similar on touch panels, phones, and tablets.
Elan Home Systems is still branding their flagship home automation system as Elan g!, but the g! logo has been taken out of the interface as of the 8.0 update. For this reason I'll refer to my Elan g! system as an Elan Home System. The text under the icons has been removed, providing for a sleeker layout that is still intuitive. In this overview, we'll look at the main pages for each one of the home subsystem tabs with the exception of intercom. In each section, I'll provide further reading so you can drill down and learn more about the finer points of each subsystem.
Security System Integration with Elan Home Systems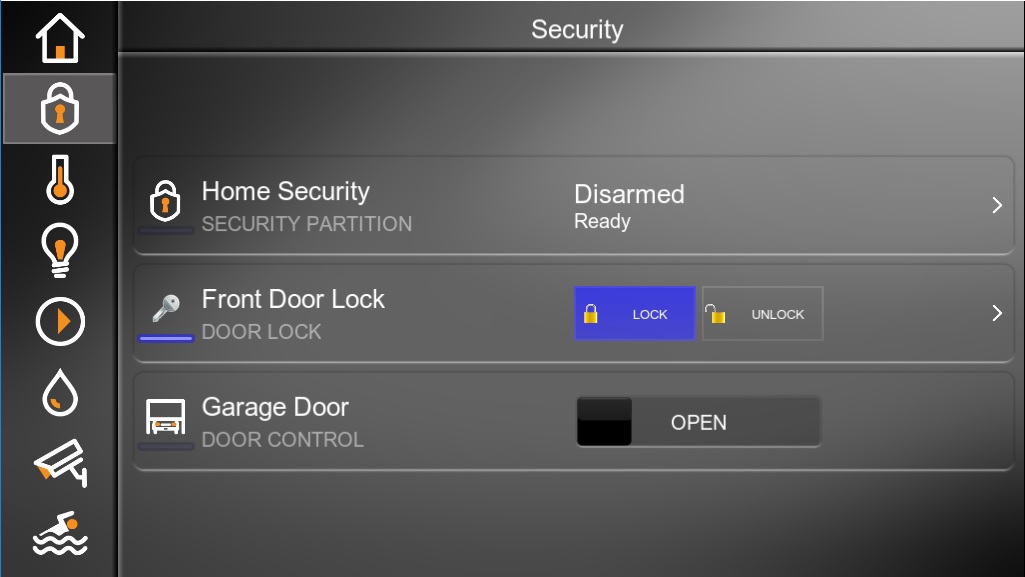 From the security page you can control and view the status of your home security system, door locks, and door controls. Most of the time I'm using door controls it's for garage doors. On my Elan home system demo this page offers three essential pieces of information: The status of the home security system (armed, disarmed, stay), the status of the front door locks (locked, unlocked), and the status of the garage door (open, closed). Directly from this page the door locks and garage doors can be controlled by touching "unlock" and entering a security code, or sliding the garage door slider to the right so that the garage door will close.
The ">" icons on the home security and front door lock tabs indicate that you can drill down further for more information. These icons are ubiquitous throughout the Elan g! home system, and offer deeper control and indication of status. Read more about security integration with Elan Home Systems.
Automated Climate Control with Elan Home Systems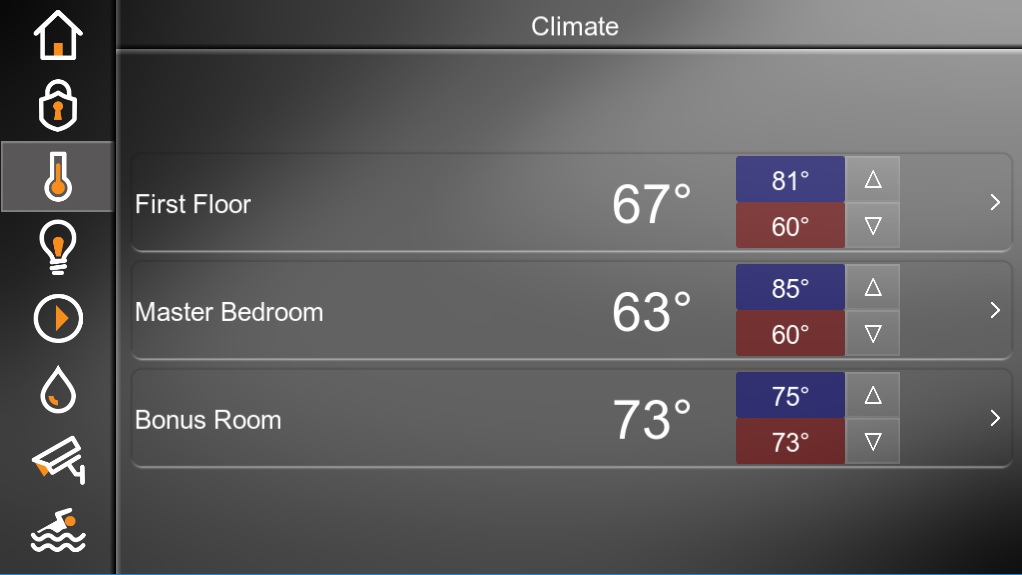 The climate control page of the Elan home system is fairly self explanatory. We can see the temperature of the various climate control zones by checking on the status of each thermostat. You can raise and lower the temperature directly from this page, or similarly to the security tab you can hit the ">" icon for more information. Read more about automated climate control with Elan Home Systems.
Automation and Control of Lighting with Elan Home Systems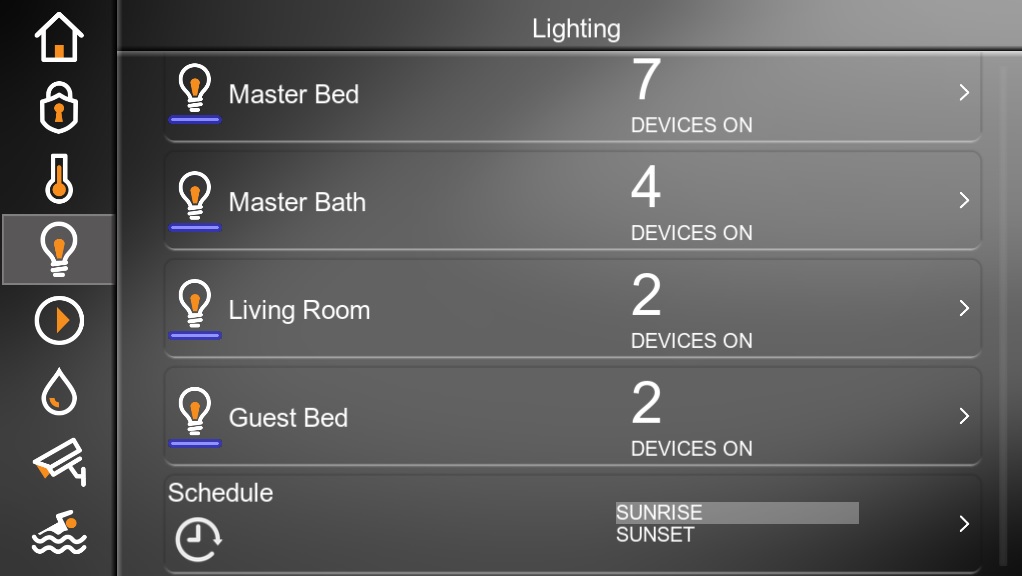 From this page we can see the different rooms with integrated lighting control. Each room shows it's status by indicating how lighting switch legs are currently on. It also shows the next time periods for the schedule, in this case sunrise and sunset. By selecting any of the rooms you can get a more detailed status as well as control of the lighting devices. You can also have a page added to control the entire home using an "all off" command or including different home scene's like "entertain," "showing," or "relax."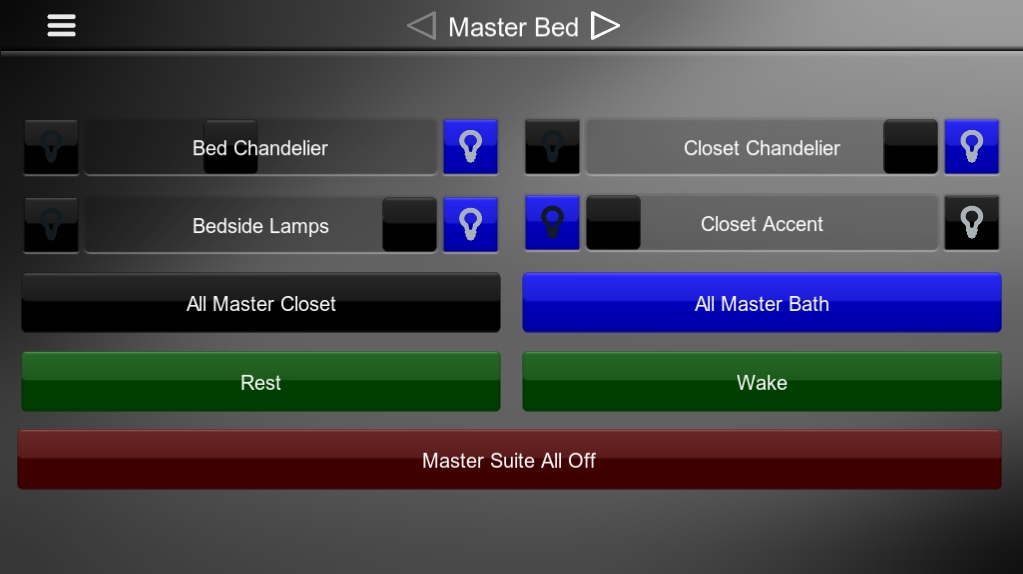 The image above is an example of a room that has been selected. We can see the status of the dimmers in the master bedroom, and they can be slid to comfortable level. The "All Master Bath" icon is currently blue, which shows that all of the lights in the master bathroom are currently on. If we were to tap this button, all of the lights would go off and the icon would become black again. The green icons are user customization scenes, while the red button is an all off for the entire master suite.
Lighting control interfaces are custom and each Elan home systems programmer typically has a preference on how to create these pages. This is my preference as I believe it is the easiest and most intuitive.
Audio & Video Control with Elan Home Systems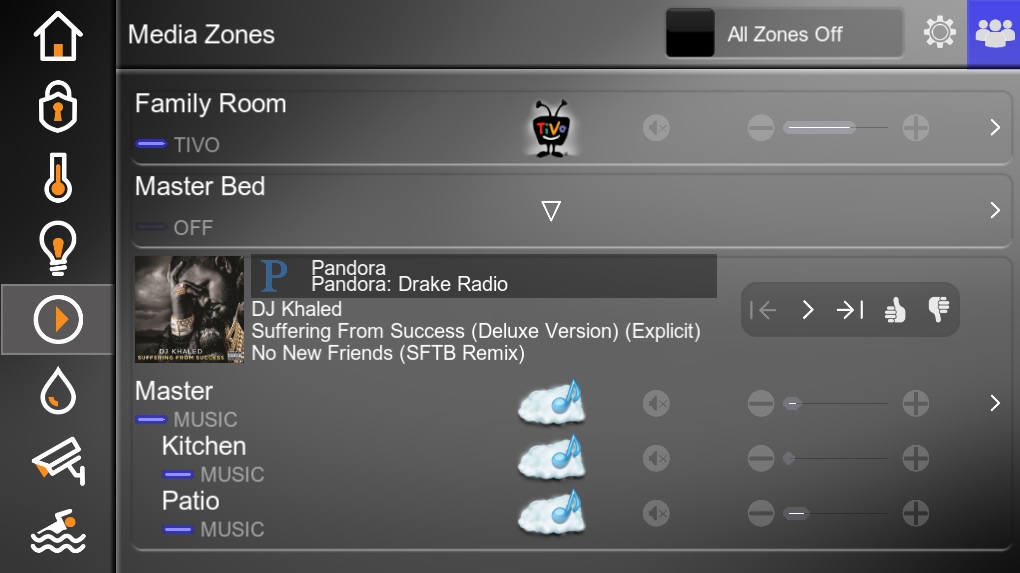 Similar to other pages, on the media page we are able to see the status of each room, including which source is active and the current volume. We can quickly switch sources and adjust volume directly form this page. This is the central hub for controlling whole home audio and video systems.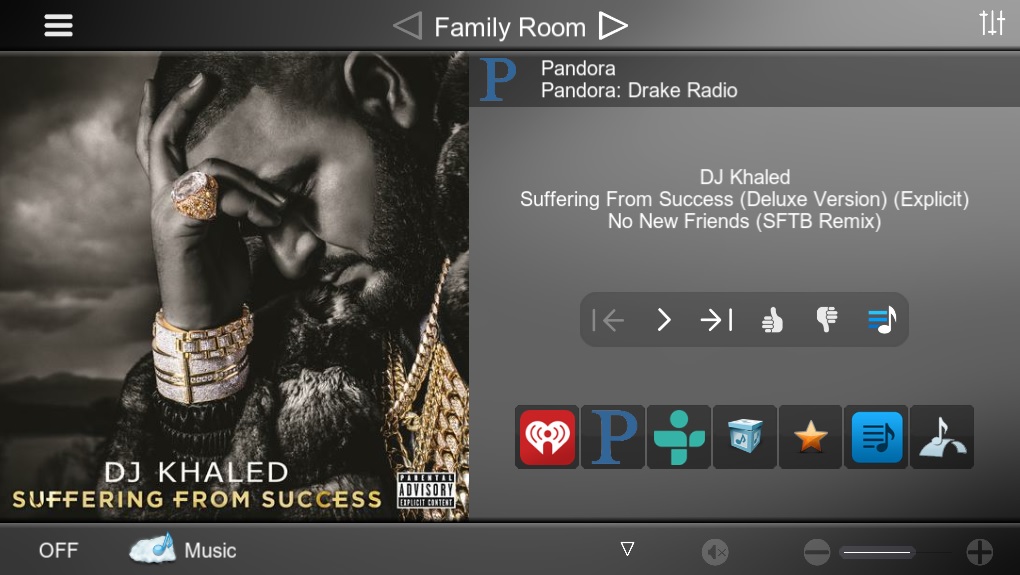 The above screenshot is an example of selecting a room that is currently playing music. The album art, artist, song, and album are available through the interface, and because this is Pandora we also get a thumbs up and thumbs down icon as well as the ability to switch and/or add new stations. Functionality of this page is greatly dependent on the type of media server that you are using. In this image, I'm using the Autonomic MMS-2A. Elan home systems has a list of different recommended media servers. Read more about audio/video control using Elan Home Systems.
Irrigation System Integration with Elan Home Systems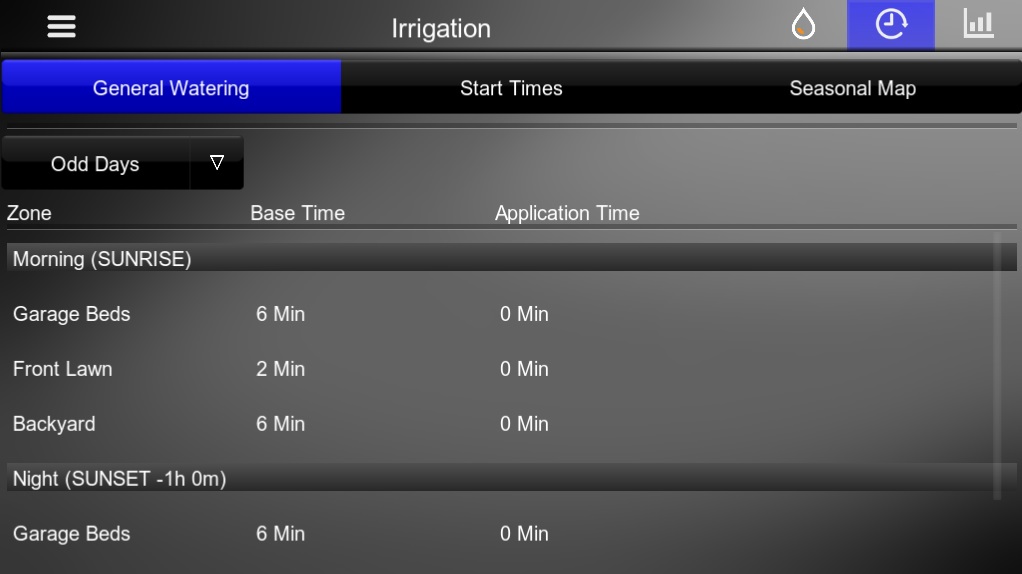 Irrigation integration allows for setting of schedules and application duration. Schedules can be set by day of week, odd/even days, or every 3 days (or 2,4,5). You also have the ability to increase duration by time of season or run irrigation groups manually.
Surveillance Integration with Elan Home Systems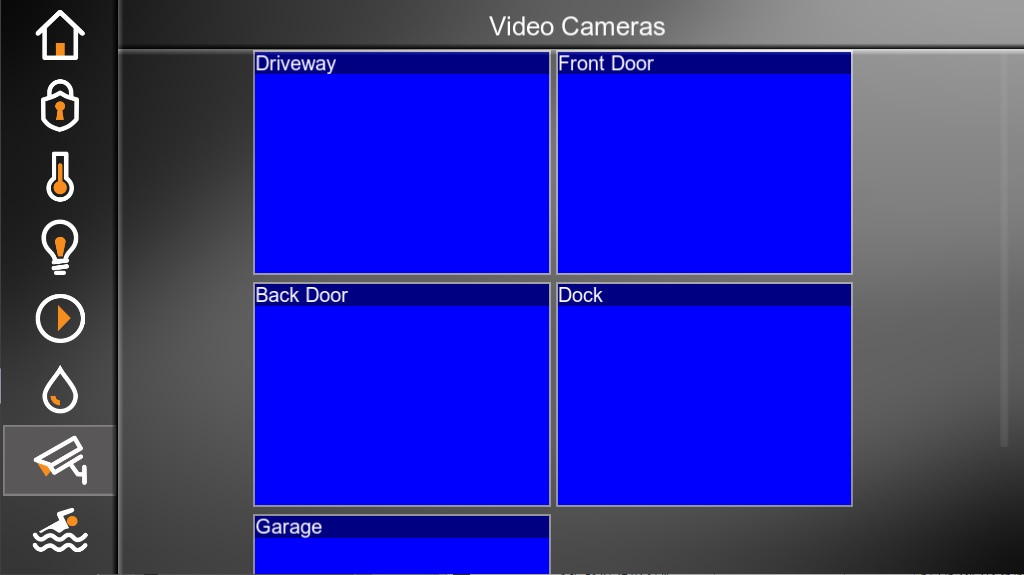 Unfortunately, I do not have any actual cameras connected to the demo system, but this is an idea of what the video screen would look like. You get a preview of each camera, and after a camera has been selected it will be enlarged to fill the screen. Using Elan's new cameras and NVRs you are able to watch recorded footage through directly through the Elan home systems interface, which is a new feature is 8.2.
Pool & Spa Control with Elan Home Systems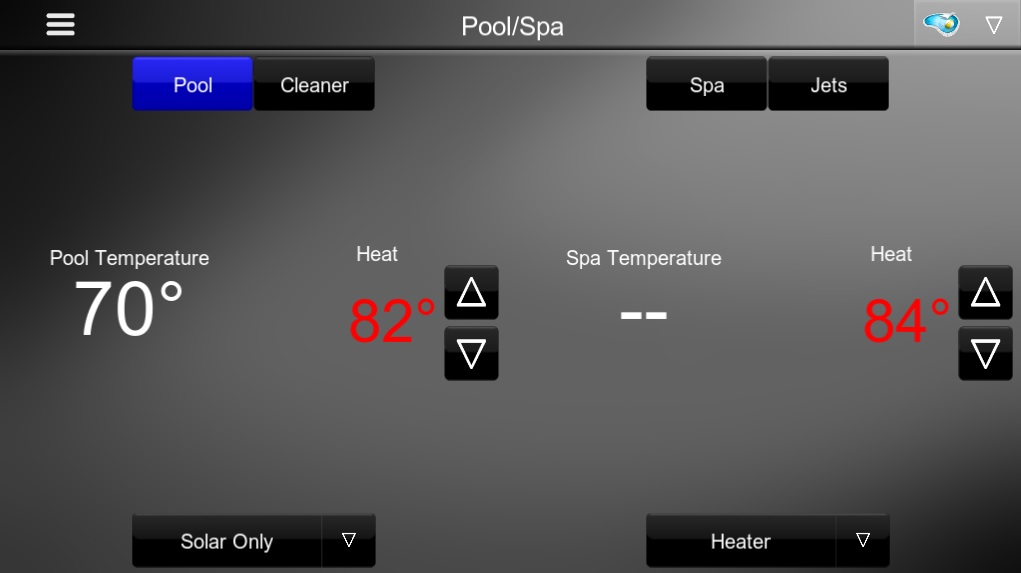 Using Pentair pool controllers, you are able to see and adjust the temperatures of the pool and the spa. You can turn on/off lights, cleaner pumps, and/or jets. There is also a scheduling interface so that you can run the pumps during particular times of day.