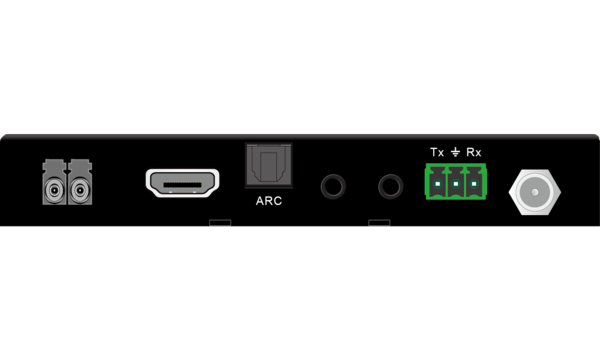 It was a great weekend for me at the CEDIA Expo in Dallas, TX this year. This product is the biggest game changer that I saw, and it will sure be implemented on as option on all of my consultations and local jobs. This is the only way to get the full HDMI 2.0 specification uncompressed across distances greater than only about 15 feet.
Introducing the TL-FO2-HDC-2 by TechLogix
Here's the specification:
Distance Limitations

1000 Feet @ 4K 4:4:4 60Hz (4K HDR)
1300 Feet @ 1080P 60Hz

Transmission Cable

Two Multi-Mode Fiber Optic Cable
LC Connectors

HDMI Specification

HDMI 2.0
HDCP 2.2
Includes full ARC & CEC

Bandwidth Limitations

Full 18 Gb/s Uncompressed
Chip set potential is higher than HDMI 2.0 specification
Benefits of using HDMI Over Fiber Optic
Obviously, if your goal is transmit 4K HDR (4K 4:4:4 60hz) over distances greater than 15′ and HDMI 2.0 then there are almost no alternatives available. Manufacturers keep suggesting that the capability of passing this over Cat6 is on the horizon, but with bandwidth limitations of the cable itself I just can't see how this is possible without any drastic compression. Fiber optic cable will always allow for the highest bandwidth possible, and when new technology is introduced requiring a new level of bandwidth it will always first be available over fiber. Optical transmission does not send electrical current over a cable and is therefore immune to EMI (Electromagnetic Interference) or RF Interference. It is the cleanest signal available for the highest quality video. This cable can run parallel to electric service entrance conductors and experience no degradation.
Applications
The TL-FO2-HDC-2 is ideal to use in almost any home theater application with a projector that produces a 4K HDR 60hz picture. If the specification of your projector is 4K 4:4:4 60hz then you will never realize it's full potential when using cables over 15′. It's also more precise to use an 18 GB/s Uncompressed HDMI Extender than to use a product with a 12 GB/s limitation that utilizes linear compression. Long range applications that may use 4K 4:2:0 are an ideal usage as well. The 70M Cat6 extender can only push 4K about half that distance and is subject to EMI and RF interference. When going a longer distance it's a better idea to use a fiber optic HDMI extender. The same can be said for 1080P, but realistically only at distance over 1000′ (300M). In applications with an existing single fiber, the TL-FO-HDC2 will provide the same specifications with only a single fiber.
Where to buy
From us, of course. MSRP is $1,499 for the set. We can even make up your fiber optic cables.
Contact us
for better pricing and custom quotes.